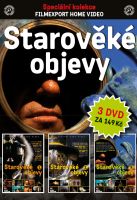 Ancient Discoveries - 3x DVD - DVD sleeves
Dnes žijeme ve světě, jenž by pro naše praprarodiče byl těžko představitelný. Je to věk nejmodernějších technologií, proudových letadel, superpočítačů a inteligentních strojů. Od dob průmyslové revoluce se náš svět rozvíjí nebývalým tempem a všechny předchozí civilizace nechává daleko za sebou. Ale je tomu skutečně tak? Dokumentární seriál Starověké objevy zkoumá udivující vyspělé technologie antického světa a ptá se, proč se všemi těmito úžasnými vynálezy nezapočala průmyslová revoluce již o dva tisíce let dříve.
Díl 1. – Počítače
Díl 2. – Lékařství
Díl 3. – Robotika
Díl 4. - Válečnictví
Díl 5. - Lodě
Díl 6. - Přírodní síly
---
czech title: Ancient Discoveries
produkce Filmexport: Ano
length: 300 min.
colour: barevný
year of release: 2002 - 2005
studio: S4C/S4C International
country of origin: Velká Británie
director: Ali McGrath, Stuart Clarke
picture: 16:9 PAL, region ALL
sound: Dolby Digital 2.0
language version: česká, anglická
medium type: 3x DVD-5, papírové pošetky v rukávu
EAN: 8595052270416
Join us, we have our own channel!

where you will find samples from archival Czech films, animated fairy tales and documentaries, which we have released on DVD. You can also access them from our website, just click on the following names - Movie Songs and Favorite Movie Scenes and Buzz. The samples are sorted here according to individual films.