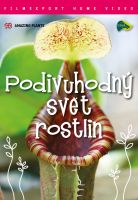 Amazing Plants - digipack
Vědci i odborníci odhalí dovednosti i triky, které rostliny používají k přežití. Masožravé rostliny využívají k přilákání potravy veškerý dostupný arzenál. Bublinatka floridská číhá na svou kořist v tůních: i při nejnepatrnějším pohybu otevře smrtelnou past, aby nasála potravu, kterou potřebuje ke svému přežití. Láčkovky lákají hmyz přenádhernými květy, aby svou kořist uvěznily ve vodní pasti, z níž není úniku. Nejúžasnější masožravou rostlinou je bezpochyby kokotice, jež dokáže vystopovat pach své oběti jako zvíře. Nejnovější vědecké poznatky dokazují, že tato rostlina svoji kořist nejprve "vyčenichá" a teprve potom zaútočí. S dokumentem prozkoumáte i obranné mechanismy, které rostliny využívají k ochraně před nebezpečím, jako například citlivka, jež svine své listy, jakmile ucítí nebezpečí, nebo tabák, jenž uvolňuje odporný zápach, aby přilákal brouky a odpudil predátory, anebo neuvěřitelná akácie, jež útočí na predátory za pomoci armády mravenců.

videoukázka
---
czech title: Amazing Plants
produkce Filmexport: Ano
length: 50 min.
colour: barevný
year of release: 2009
studio: NGC Network US, LLC.
country of origin: Německo
picture: 16:9 PAL, region ALL
sound: Dolby Digital 2.0
language version: česká, anglická
medium type: DVD-5, digipack
EAN: 8595052208778
Join us, we have our own channel!

where you will find samples from archival Czech films, animated fairy tales and documentaries, which we have released on DVD. You can also access them from our website, just click on the following names - Movie Songs and Favorite Movie Scenes and Buzz. The samples are sorted here according to individual films.