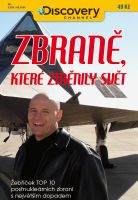 Weapons that Changed the World - DVD sleeve
Jedná se o nadmíru složitou otázku, jež upoutala pozornost více než 120 000 návštěvníků webových stránek Discovery. Z užšího výběru vypracovaného předními odborníky v oboru volili návštěvníci ty zbraně, jejichž dopad na světové události považovali za podstatný. Abychom jim úkol zjednodušili, zúžili jsme seznam na zbraně postnukleárního věku, tj. od konce 2. světové války. A je vskutku fascinující. Průvodcem tímto adrenalinem překypujícím žebříčkem TOP 10 zbraní s největším dopadem na lidstvo je Richard Machowicz z FutureWeapons. Ač kontroverzní a leckdy i překvapující, je to výběr, který vyvolá nekonečné debaty po celých Spojených státech. Mackovi se dostane do ruky celá řada zbraní a jejich historii i význam nám přiblíží několik předních světových expertů. Připravte se tedy na opravdová překvapení.

videoukázka
---
czech title: Weapons that Changed the World
length: 44 min.
colour: barevný
year of release: 2007
studio: DISCOVERY COMMUNICATIONS, LLC.
country of origin: USA
director: John Lonsdale
picture: 16:9, PAL, region 2
sound: Dolby Digital 2.0
language version: česká, anglická
medium type: DVD-5, papírová pošetka
Join us, we have our own channel!

where you will find samples from archival Czech films, animated fairy tales and documentaries, which we have released on DVD. You can also access them from our website, just click on the following names - Movie Songs and Favorite Movie Scenes and Buzz. The samples are sorted here according to individual films.