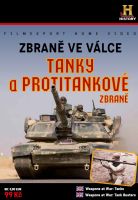 Weapons at War: Tanks / Weapons at War: Tank Busters - digipack
Tanky - První tanky, které se objevily během 1. světové války, dosahovaly rychlosti necelých šest kilometrů v hodině. Dnešní tanky mají hmotnost přes šedesát tun a dokáží manévrovat v jakémkoli terénu s obdivuhodnou rychlostí a obratností. Jejich zbraně prorazí pancíř nepřítele na půl druhého kilometru ve dne nebo v noci. Tento dokument zachycuje vývoj tanků od roku 1915 až po současnost.
Protitankové zbraně - Tanky byly kdysi na bitevním poli považovány za dominantní. Ale jejich převaha skončila s vynálezem bazuky ve 2. světové válce. Jejich budoucnost je nejistá. Dnešní tanky ničí zbraně z helikoptér nebo řízené střely. K protitankovým zbraním patří i lasery, zbraně využívající soustředěnou energii. Žádný tank není a nikdy ani nebude nesmrtelný.
| | |
| --- | --- |
| | |
| videoukázka | videoukázka |
---
czech title: Weapons at War: Tanks / Weapons at War: Tank Busters
length: 2 x 47 min.
colour: barevný
year of release: 1991/1992
studio: A&E Television Networks, LLC.
country of origin: USA
director: Robert Kirk
picture: 4:3 PAL, region 2
sound: Dolby Digital 2.0
language version: česká, anglická
medium type: DVD-5, digipack
Join us, we have our own channel!

where you will find samples from archival Czech films, animated fairy tales and documentaries, which we have released on DVD. You can also access them from our website, just click on the following names - Movie Songs and Favorite Movie Scenes and Buzz. The samples are sorted here according to individual films.