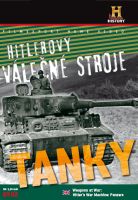 Weapons at War: Hitler´s War Machine: Panzers - DVD sleeve
Hitlerovy elitní tankové jednotky tvořily ocelovou pěst jeho armády. Tanky - tato revoluční obrněná zbraň se stala symbolem převahy nejmodernějších německých technologií. Dokument z cyklu Zbraně ve válce přináší příběhy mužů a strojů - příběhy Hitlerových mohutných tanků. Vypráví o tom, s jakou rychlostí a palebnou silou německé tanky ovládaly bojiště za 2. světové války a o revoluci ve strategii vedení tankové války.

videoukázka
---
czech title: Weapons at War: Hitler´s War Machine: Panzers
length: 45 min.
colour: černobílý/barevný
year of release: 1993
studio: A&E Television Networks, LLC.
country of origin: USA
director: Robert Kirk
picture: 4:3 PAL, region 2
sound: Dolby Digital 2.0
language version: česká, anglická
medium type: DVD-5, papírová pošetka
Join us, we have our own channel!

where you will find samples from archival Czech films, animated fairy tales and documentaries, which we have released on DVD. You can also access them from our website, just click on the following names - Movie Songs and Favorite Movie Scenes and Buzz. The samples are sorted here according to individual films.