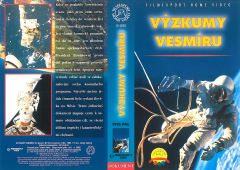 Výzkumy vesmíru
Když se podařilo Sovětskému svazu, jako první zemi světa, vyslat člověka do vesmíru, byl to pro Ameriku obrovský šok. Její vlastní kosmický program byl do té doby jen dlouhou řadou spektakulárních chyb. President Eisenhower proto dal pokyn k naprosté prioritě vesmírných letů. Spojené státy vyvinuly veliké úsilí ve zdokonalování svého kosmického programu. Nejvyšší metou jejich činnosti bylo vyslání člověka na Měsíc. Tento jedinečný dokument mapuje cestu k tomuto obtížnému cíli, se všemi dílčími úspěchy i katastrofickými chybami.
---
czech title: In Search of the Universe
length: 51 min.
colour: barevný
year of release: 1995
studio: Powersports International
country of origin: USA
sound: kanál 1 CZ mix 2 komentář CZ 3 MM 4 Mix anglický
language version: česká
medium type: BTC
Join us, we have our own channel!

where you will find samples from archival Czech films, animated fairy tales and documentaries, which we have released on DVD. You can also access them from our website, just click on the following names - Movie Songs and Favorite Movie Scenes and Buzz. The samples are sorted here according to individual films.