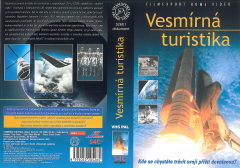 Vesmírná turistika
Historie vesmírné turistiky má své kořeny v soupeřivosti USA a a SSSR v období tzv. "studené války". Padesátá a šedesátá léta 20. století byla optimistickou érou pro nadšence upínající se k vesmírné turistice, byl to věk, kdy se fantazie autorů science-fiction zdály být realizovatelné. Vypuštění Sputniku 1 v říjnu 1957 šokovalo západní svět a odstartovalo příliv neomezených prostředků do vesmírného programu. Nyní nastává období nového zápasu, touhou mnohých je snaha být prvním komerčním vesmírným operátorem. Velcí hráči, jako například Hilton International, Shimizu Space System, Virgin Atlantic, se již začali zabývat prověřováním komerčních možností vesmírné turistiky a investují miliony dolarů na vývoj vlastních "vesmírných hotelů" a realizaci turistických cest.
---
czech title: Space Tourist
length: 52 min.
colour: barevný
year of release: 2000
studio: S4C
country of origin: Velká Británie
director: Stuart Clarke
sound: L original R original L ME R ME
language version: česká
medium type: BTC
Join us, we have our own channel!

where you will find samples from archival Czech films, animated fairy tales and documentaries, which we have released on DVD. You can also access them from our website, just click on the following names - Movie Songs and Favorite Movie Scenes and Buzz. The samples are sorted here according to individual films.