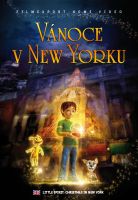 Vánoce v New Yorku - papírová pošetka
Tento kouzelný příběh vypráví o chlapci jménem Leo, jenž se musel přestěhovat i se svojí rodinou do New Yorku, a o jeho rozkošné a uličnické fence Ramoně. Když se Ramona Leovi ztratí, vydává se ji sám hledat do nočního velkoměsta. Obavy ovšem brzy vystřídá údiv. K hledajícímu Leovi se brzy přidá kouzelný skřítek a stane se Leovým průvodcem při jeho vánočním dobrodružství. Leo se během svého putování setkává s lidmi z mnoha kultur a postupně překonává svůj strach z cizího města, jemuž říkají New York City.
Soundtrack k filmu pochází z dílny hudebního skladatele Duncana Sheika, který je držitelem prestižních cen Tony i Grammy.

videoukázka
---
czech title: Little Spirit: Christmas in New York
length: 42 min.
colour: barevný
year of release: 2008
studio: Curious Pictures
country of origin: USA
director: Leopoldo Goud, Susan Holden
script: Andy Rheingold
music: Duncan Sheik
picture: 16:9 PAL, region ALL
sound: Dolby Digital 2.0
language version: česká, anglická
medium type: DVD-5, papírová pošetka
Join us, we have our own channel!

where you will find samples from archival Czech films, animated fairy tales and documentaries, which we have released on DVD. You can also access them from our website, just click on the following names - Movie Songs and Favorite Movie Scenes and Buzz. The samples are sorted here according to individual films.