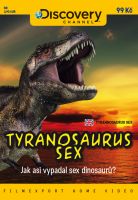 Tyrannosaurus Sex - digipack
Dinosauři ovládali Zemi miliony let. Díky fosíliím a stopám už víme, jak chodili, lovili, žili i umírali. Jedné fascinující a intimní stránce dinosauřího života teprve začínáme rozumět. Jak asi vypadal sex dinosaurů? Proč se Titanosauři pářili pod vodou? Rozhovory s paleobiology a počítačově vytvořené obrazy vnesly nové světlo do jednoho z posledních tajemství těchto dávných tvorů.

videoukázka
---
czech title: Tyrannosaurus Sex
length: 44 min.
colour: barevný
year of release: 2010
studio: DISCOVERY COMMUNICATIONS, LLC.
country of origin: USA
picture: 16:9 PAL, region 2
sound: Dolby Digital 2.0
language version: česká, anglická
medium type: DVD-5, digipack
Join us, we have our own channel!

where you will find samples from archival Czech films, animated fairy tales and documentaries, which we have released on DVD. You can also access them from our website, just click on the following names - Movie Songs and Favorite Movie Scenes and Buzz. The samples are sorted here according to individual films.