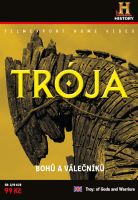 Troy: of Gods and Warriors - digipack
Homérova Iliada bezpochyby patří k nejvěhlasnějším literárním dílům všech dob. Je to epos o řeckých bozích, pozemských válečnících a o desetiletí trvajícím soupeření o nejkrásnější ženu světa. Je epos založen na pravdě? Opravdu došlo k Trojské válce?
Antickou Tróju se Josh Bernstein vydává hledat do Řecka a Turecka. Při svém putování se dozví, jak těžký byl život u břehů Egejského moře v pozdní době bronzové. Vyzkouší si zbraně trojských válečníků a ukáže nám pozůstatky starobylého města v severním Turecku, jež dokazují, že Homérův epos nebyl jen pouhou fikcí.

videoukázka
---
czech title: Troy: of Gods and Warriors
length: 45 min.
colour: barevný
year of release: 2006
studio: A&E Television Networks, LLC.
country of origin: USA
picture: 4:3 PAL, region 2
sound: Dolby Digital 2.0
language version: česká, anglická
medium type: DVD-5, digipack
Join us, we have our own channel!

where you will find samples from archival Czech films, animated fairy tales and documentaries, which we have released on DVD. You can also access them from our website, just click on the following names - Movie Songs and Favorite Movie Scenes and Buzz. The samples are sorted here according to individual films.