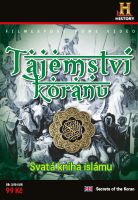 Secrets of the Koran - digipack
Korán je jednou z nejvýznamnějších knih všech dob – posvátný text, jenž řídí životy více než miliardy lidí. Muslimové po celém světě věří, že svatá kniha islámu je jakýmsi božím průvodcem, jenž věřícím pomáhá kráčet správnou cestou. Dokument Tajemství koránu odhaluje roušku tajemství, vysvětluje podstatu tohoto posvátného textu, jeho původ a smysl, jeho nesmírně spletitý básnický jazyk i jeho názory na mír, násilí a jiná vyznání.
Rozebírá jednotlivé verše, vysvětluje, proč byly věřícím zjeveny, jakým způsobem byly předávány i jaký je jejich význam v moderní době. Odkrývá zarážející podobnosti a rozdíly mezi koránem a biblí a neopomíjí ani skutečnost, že podle muslimů korán uvádí na pravou míru některé posvátné židovské a křesťanské texty.
Druhý díl dokumentu zkoumá jeho úlohu v islámských dějinách. Mapuje 500 let nadvlády a zlatého věku islámu, samozřejmě neopomíjí dnes tak často zmiňované slovo džihád, vysvětluje jeho význam v koránu i to, v jakém kontextu bylo používáno v minulosti a v jakém je používáno v současnosti islámskými radikály.

videoukázka
---
czech title: Secrets of the Koran
length: 2 x 46 min.
colour: barevný
year of release: 2006
studio: A&E Television Networks, LLC.
country of origin: USA
picture: 4:3 PAL, region 2
sound: Dolby Digital 2.0
language version: česká, anglická
medium type: DVD-5, digipack
Join us, we have our own channel!

where you will find samples from archival Czech films, animated fairy tales and documentaries, which we have released on DVD. You can also access them from our website, just click on the following names - Movie Songs and Favorite Movie Scenes and Buzz. The samples are sorted here according to individual films.