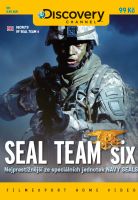 Secrets of SEAL TEAM 6 - digipack
Po tři dekády byly mise Teamu Six i jeho samotná existence přísně chráněny před okolním světem a spíše jen tušeny. Bezpečnostní bariéra se prolomila až po úspěšné akci Operation Neptune Spear, jejímž výsledkem byla likvidace nejhledanějšího muže planety. Působnost týmu zůstává i nadále zahalena tajemstvím, přesto bylo hrstce dokumentaristů umožněno alespoň nahlédnout do zákulisí týmu a poznat některé z jeho bývalých členů, stát se svědky výjimečného tréninku a seznámit se s nejvyspělejšími technologiemi, s jejichž pomocí tým operuje na nejrizikovějších místech našeho světa.

videoukázka
---
czech title: Secrets of SEAL TEAM 6
length: 44 min.
colour: barevný
year of release: 2011
studio: DISCOVERY COMMUNICATIONS, LLC.
country of origin: USA
picture: 16:9 PAL, region ALL
sound: Dolby Digital 2.0
language version: česká, anglická
medium type: DVD-5, digipack
Join us, we have our own channel!

where you will find samples from archival Czech films, animated fairy tales and documentaries, which we have released on DVD. You can also access them from our website, just click on the following names - Movie Songs and Favorite Movie Scenes and Buzz. The samples are sorted here according to individual films.