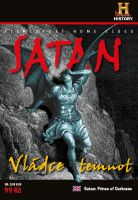 Satan: Prince of Darkness - digipack
Na počátku Bůh stvořil nebe a zemi. Krátce poté byl nucen stvořit i peklo jako domov padlých andělů, kteří si dovolili protivit se Mu. Tím andělem byl Lucifer, nositel světla. Brzy se ale stal známým pod hrozivějším jménem – Satan, ďábel. On je tou noční můrou, která nás navštěvuje v nejtemnějších hodinách, fantomem, který nás volá uprostřed noci. Od počátku vesmíru až dodnes, Satan se toulá po zemi s cílem zničit člověka. Kde je světlo, Satan přináší temnotu. Kde je mír, rozpoutá válku. Kde nalezne lásku, přivede nenávist. Aby nás oklamal, používá mnoho forem. V jeho nejdémoničtější roli je ale Satan ochráncem temnot, zla, které se skrývá za rohem, hluboko v našich duších. Budeme vyprávět příběh o stvoření zla, které pronásleduje lidstvo od počátku časů.

videoukázka
---
czech title: Satan: Prince of Darkness
length: 44 min.
colour: barevný
year of release: 1998
studio: A&E Television Networks, LLC.
country of origin: USA
picture: 4:3 PAL, region 2
sound: Dolby Digital 2.0
language version: česká, anglická
medium type: DVD-5, digipack
Join us, we have our own channel!

where you will find samples from archival Czech films, animated fairy tales and documentaries, which we have released on DVD. You can also access them from our website, just click on the following names - Movie Songs and Favorite Movie Scenes and Buzz. The samples are sorted here according to individual films.