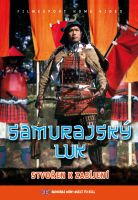 Samurai Bow: Built to kill - DVD sleeve
Samurajský luk je spojen s dlouhou tradicí a těší se hluboké úctě. V dnešní době slouží výhradně k obřadním a předváděcím účelům, přesto byl v minulosti smrtící zbraní samurajů. Tento výjimečný dokument nás zavede k mistrům lukařům, kteří dokážou vytvarovat bambusový prut tak, že se stane mistrovským dílem, ale i k mistrům bojových umění, kteří stále pokračují v učení svých předchůdců.

videoukázka
---
czech title: Samurai Bow: Built to kill
length: 50 min.
colour: barevný
year of release: 2008
studio: Parthenon Entertainment Ltd.
country of origin: Velká Británie
director: John Wate, Ian Marsh
picture: 16:9 PAL, region, ALL
sound: Dolby Digital 2.0
language version: česká, anglická
medium type: DVD-5, papírová pošetka
Join us, we have our own channel!

where you will find samples from archival Czech films, animated fairy tales and documentaries, which we have released on DVD. You can also access them from our website, just click on the following names - Movie Songs and Favorite Movie Scenes and Buzz. The samples are sorted here according to individual films.