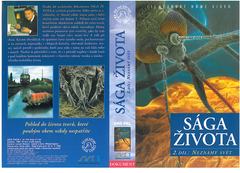 Sága života - 2. díl: Neznámý svět
Druhý díl unikátního dokumentu SÁGA ŽIVOTA je určitým poselstvím. Díky němu si uvědomíte, že vlastně nikdy nejste sami, když možná máte ten dojem. L. Nilsson totiž svým kouzelným objektivem nahlédl do světa tvorů, které pouhým okem nikdy neuvidíme. Máme možnost pozorovat tyto tvorečky, jako by stáli vedle nás. Stejně velcí, stejně živí. A stále při chuti. Kromě obvyklých vší, spatříme larvy šatního mola, pochutnávající si na svetrech, nájemníky v chlupech kožichu, obyvatele knihoven, muzeí, našich postelí i společníky, kteří jsou stále s námi na naší kůži nebo v ústech. Nechte se přesvědčit o tom, že i v přírodě najdete v každé louži a pod každým kamenem mikrosvět s vlastními zákony vzniku a zániku - věčného koloběhu života.
---
czech title: The Saga of Life
length: 54 min.
colour: barevný
year of release: 1996
studio: Sveriges Televison AB
country of origin: Švédsko
director: Mikael Agaton
script: Mikael Agaton
director of photography: Lennart Nilsson
sound: L CZ R CZ 3 ME 4 ME
language version: česká
medium type: BTC
Join us, we have our own channel!

where you will find samples from archival Czech films, animated fairy tales and documentaries, which we have released on DVD. You can also access them from our website, just click on the following names - Movie Songs and Favorite Movie Scenes and Buzz. The samples are sorted here according to individual films.