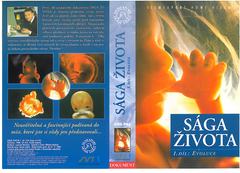 Sága života - 1. díl: Evoluce
První díl unikátního dokumentu SÁGA ŽIVOTA je věnován především vývoji života. A to jak na planetě Zemi vůbec, tak i vývoji, kterým jsme všichni prošli před narozením. S použitím fascinujících záběrů L. Nilssona doplněných počítačovými animacemi, nabývají mlhavé představy o vzniku života na naší planetě konkrétní podoby. A nejenom ty... Díky srovnání nitroděložního vývoje lidí a zvířat s vývojem na Zemi si totiž uvědomíme, že dlouhé čtyři miliardy let vývoje planety si každý z nás prožil během prenatálního vývoje. Nevěříte?
---
czech title: The Saga of Life
length: 54 min.
colour: barevný
year of release: 1996
studio: Sveriges Televison AB
country of origin: Švédsko
director: Mikael Agaton
script: Mikael Agaton
director of photography: Lennart Nilsson
sound: L CZ R CZ 3 ME 4 ME
language version: česká
medium type: BTC
Join us, we have our own channel!

where you will find samples from archival Czech films, animated fairy tales and documentaries, which we have released on DVD. You can also access them from our website, just click on the following names - Movie Songs and Favorite Movie Scenes and Buzz. The samples are sorted here according to individual films.