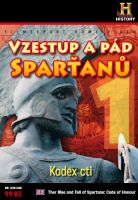 Rise and Fall of Spartans, The: Code of Honour - digipack
Ve své době vzbuzovali obdiv i strach. Tito starověcí válečníci vynalezli kromě výcvikových táborů, frontálního útoku a systému bezplatného vzdělávání i životní styl a výchovu, které se podle nich nazývají dodnes.
V roce 480 př. n. l. se v úzkém horském průsmyku u Thermopyl střetlo tři sta spartských těžkooděnců se statisícovým vojskem perského krále. Celé tři dny se Sparťanům zázrakem dařilo odolávat nezměrné přesile. Svojí hrdinskou sebezničující obranou dokázali nepříteli způsobit obrovské ztráty a podkopat morálku perského vojska. Bitva u Thermopyl se tak zapsala do dějin Západu jako jeden z rozhodujících okamžiků. Kdo byli tito vojáci, kteří byli ochotní bojovat předem prohranou bitvu jen proto, aby hájili svou čest a svou zem? Tento díl dokumentu odhaluje základní stavební kameny života a smrti ve starověké Spartě.

videoukázka
---
czech title: The Rise and Fall of Spartans: Code of Honour
length: 91 min.
colour: barevný
year of release: 2002
studio: A&E Television Networks, LLC.
country of origin: USA
picture: 4:3 PAL, region 2
sound: Dolby Digital 2.0
language version: česká, anglická
medium type: DVD-5, digipack
Join us, we have our own channel!

where you will find samples from archival Czech films, animated fairy tales and documentaries, which we have released on DVD. You can also access them from our website, just click on the following names - Movie Songs and Favorite Movie Scenes and Buzz. The samples are sorted here according to individual films.