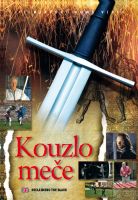 Reclaiming the Blade - DVD sleeve
Dokument Kouzlo meče, v němž se setkáváme s Viggem Mortensenem a Karlem Urbanem a jímž nás provází John Rhys-Davies, nám otevírá jedinečný pohled do historie boje a umění meče i divadelního šermu. Pravda o meči sahá daleko do starověku a renesanční bojová umění, skrze něž znovu ožila, upadla dávno v zapomnění. Dokument Kouzlo meče, který obsahuje rozhovory s předními hollywoodskými choreografy bojových scén i světově uznávanými historiky, nejenže vrhá světlo na starodávnou legendu o meči, ale nabízí i ukázky nejpozoruhodnějších šermířských scén, jaké se kdy na stříbrném plátně objevily.
Hovoří: Viggo Mortensen, Karl Urban, Bob Anderson, John Howe
videoukázka
---
czech title: Reclaiming the Blade
length: 74 min.
colour: barevný
year of release: 2009
studio: Vision Films INC.
country of origin: USA
director: Daniel McNicoll
script: Daniel McNicoll
music: David James Nielsen
picture: 16:9 PAL, region 2
sound: Dolby Digital 2.0
language version: česká, anglická
medium type: DVD-5, papírová pošetka
Join us, we have our own channel!

where you will find samples from archival Czech films, animated fairy tales and documentaries, which we have released on DVD. You can also access them from our website, just click on the following names - Movie Songs and Favorite Movie Scenes and Buzz. The samples are sorted here according to individual films.