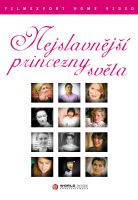 Princesses of the World - digipack
Ať už se do královské rodiny narodí jako Šípková Růženka, nebo se do ní přivdají jako Popelka. Opravdové princezny mají se svými pohádkovými protějšky mnoho společného: oblékají se do exkluzivních modelů, jedí nejvytříbenější pokrmy a jsou obklopeny luxusem paláců. Avšak život v moderním světě je pro ně na hony vzdálený pohádkám. Tento dokument přináší fascinující portréty nejkrásnějších a nejmilovanějších žen královské krve za posledních 50 let. Vydáte se s ním na velkolepý výlet plný romantické lásky, zármutku, tragédie i protikladů, jež urozený život těmto moderním pohádkovým princeznám přináší. Společenské tlaky i velká očekávání královských rodin činí život těchto soudobých princezen daleko odlišnější a náročnější než jakákoli pohádka. Tato mimořádná kolekce přináší portréty princezny Diany, kněžny Grace, vévodkyně Fergie a mnoha dalších urozených dam.

videoukázka
---
czech title: Princesses of the World
length: 49 min. + 41 min.
colour: barevný
year of release: 2009
studio: World Wide Enterteinment
country of origin: Austrálie
director: Gillian Bartlett
script: Gillian Bartlett
picture: 4:3 PAL, region ALL
sound: Dolby Digital 2.0
language version: česká, anglická
medium type: DVD-5, digipack
---
bonusy
Dánská princezna Mary, přípravy na den D; Sophie, hraběnka z Wessexu, radost i smutek; Korunní drahokamy, královské dražby; Královské svatby; Sarah Ferguson, život bez královské rodiny; Princové a jejich přítelkyně; Princezna Diana, proměna v módní ikonu; Korunovace královny Alžběty II.
Join us, we have our own channel!

where you will find samples from archival Czech films, animated fairy tales and documentaries, which we have released on DVD. You can also access them from our website, just click on the following names - Movie Songs and Favorite Movie Scenes and Buzz. The samples are sorted here according to individual films.