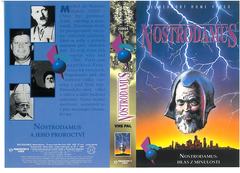 Nostradamus: Hlas z minulosti
Michel de Nostradamus (1503-1566) byl profesor, fyzik, astrolog a matematik. Zasvěcení tvrdí, že předpověděl všechny důležité události, které se měly v příštích nejméně pěti stoletích stát. Za svůj život jich sepsal více než 1300. Patří sem například Francouzská revoluce, Napoleonův pád, obě světové války, vzestup a pád Třetí říše, Kennedyho smrt, válka v zálivu a další budoucí události. Nyní máme možnost seznámit se s jeho fascinující činností i my.
---
czech title: Nostrodamus: A Voice from the Past
length: 97 min.
colour: černobílý / barevný
year of release: 1992
studio: Powersports Productions
country of origin: USA
language version: česká
medium type: BTC
Join us, we have our own channel!

where you will find samples from archival Czech films, animated fairy tales and documentaries, which we have released on DVD. You can also access them from our website, just click on the following names - Movie Songs and Favorite Movie Scenes and Buzz. The samples are sorted here according to individual films.