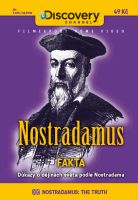 Nostradamus: Fakta
Kdo byl Nostradamus? Jak se z francouzského mastičkáře stal jeden z nejprodávanějších autorů všech dob? A proč se v našem věku vědy slovo Nostradamus stalo nejvyhledávanějším heslem na Internetu po událostech 9. září 2001? Nyní se vůbec poprvé dozvíme pravdu o jedné z nejslavnějších osobností, které kdy žily. Dokument přináší nové překlady proroctví, jež napsal takřka před pěti sty lety. A tato jsou vskutku ohromující.

videoukázka
---
czech title: Nostradamus: The Truth
length: 46 min.
colour: barevný
year of release: 2006
studio: DISCOVERY COMMUNICATIONS, LLC.
country of origin: USA
director: Caius Julyan
picture: 4:3 PAL, region 2
sound: Dolby Digital 2.0
language version: česká, anglická
medium type: DVD-5, papírová pošetka
Join us, we have our own channel!

where you will find samples from archival Czech films, animated fairy tales and documentaries, which we have released on DVD. You can also access them from our website, just click on the following names - Movie Songs and Favorite Movie Scenes and Buzz. The samples are sorted here according to individual films.