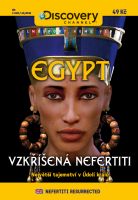 Nefertiti Resurrected - DVD sleeve
V hrobce v Údolí králů se skrývá jedno z největších tajemství starověkého Egypta. Sondy odhalily tři mumie ukryté v temné místnůstce za tajnou zdí hrobky. Ležely tam po celá staletí, zapomenuté celým světem. Až dosud nebyly nikým zkoumány ani identifikovány. Dr. Joann Fletcher, jedna z předních světových egyptoložek, věří, že jedna z mumií za zdí patří královně Nefertiti.

videoukázka
---
czech title: Nefertiti Resurrected
length: 101 min.
colour: barevný
year of release: 2002
studio: DISCOVERY COMMUNICATIONS, LLC.
country of origin: USA
director: Matthew Wortman
picture: 16:9 PAL, region 2
sound: Dolby Digital 2.0
language version: česká, anglická
medium type: DVD-5, papírová pošetka
Join us, we have our own channel!

where you will find samples from archival Czech films, animated fairy tales and documentaries, which we have released on DVD. You can also access them from our website, just click on the following names - Movie Songs and Favorite Movie Scenes and Buzz. The samples are sorted here according to individual films.