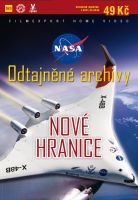 NASA´S X-FILES - The New Frontier - DVD sleeve
Počítačové technologie změnily způsob našeho létání. Radikálně vyhlížející stíhací letoun typu X-29 nebo neuvěřitelný stíhací letoun X-31 schopný vychylování tahu či stroj F-23 vám pomohou odhalit, jak počítače zvýšily bezpečnost a přinesly nepředstavitelnou výkonnost. Je to příběh o obrovském riziku, jemuž jsou vystaveny letouny vylepšované inženýry a kybertechnologiemi, aby mohly provádět salta, výkruty i nepřekonatelné manévry při leteckém boji pomocí technologie Fly-By-Wire, které by bez pomoci sám člověk nedokázal.

videoukázka
---
czech title: NASA´S X-FILES - The New Frontier
length: 47 min.
colour: barevný
year of release: 2007
studio: Maverick Media Works in cooperation with the NASA Dryden Flight
country of origin: USA
script: Stephen Rocha
music: Craig Dobbin
picture: 4:3 PAL, region 2
sound: Dolby Digital 2.0
language version: česká, anglická
medium type: DVD-5, papírová pošetka
Join us, we have our own channel!

where you will find samples from archival Czech films, animated fairy tales and documentaries, which we have released on DVD. You can also access them from our website, just click on the following names - Movie Songs and Favorite Movie Scenes and Buzz. The samples are sorted here according to individual films.