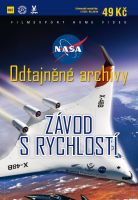 NASA´S X-FILES - The Need for Speed - DVD sleeve
Staňte se svědky toho, jak letci překonávají bariéry s nejrychlejšími stroji světa od prvního nadzvukového letounu typu X-1 až po futuristický stroj SR-71, který posunuje rychlostní limity. Sledujte jejich úsilí, jehož cílem je dokázat praktičnost supersonické rychlosti a dosažitelnost hypersonické rychlosti. Je to příběh o odvaze a dovednosti, jichž je zapotřebí k tomu, abychom mohli létat rychleji, než je rychlost zvuku. Sledujte průkopnické hrdiny Chucka Yeagera a Scotta Crossfielda, jak překračují hranice, aby se svým radikálním letounem dosáhli nemyslitelných rychlostí.

videoukázka
---
czech title: NASA´S X-FILES - The Need for Speed
length: 49 min.
colour: barevný
year of release: 2007
studio: Maverick Media Works in cooperation with the NASA Dryden Flight
country of origin: USA
script: Lane Wallace
music: Craig Dobbin
picture: 4:3 PAL, region 2
sound: Dolby Digital 2.0
language version: česká, anglická
medium type: DVD-5, papírová pošetka
Join us, we have our own channel!

where you will find samples from archival Czech films, animated fairy tales and documentaries, which we have released on DVD. You can also access them from our website, just click on the following names - Movie Songs and Favorite Movie Scenes and Buzz. The samples are sorted here according to individual films.