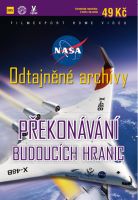 NASA´S X-FILES - Into the Future - DVD sleeve
I přes rozčarování z neúspěchu prvního letu X-43 se inženýři NASA snaží zjistit příčinu jeho nehody a plánují start dalšího výzkumného hyper-X stroje. Sledujte inženýry, jak připravují druhý letoun X-43 na jeho pokus dosáhnout rychlosti Mach překonávající 11200 km/hod. Buďte v řídícím středisku NASA při závěrečném odpočítávání a pozorujte, jak třetí letoun X-43 zažehává motory při rekordní rychlosti Mach 10.

videoukázka
---
czech title: NASA´S X-FILES - Into the Future
length: 47 min.
colour: barevný
year of release: 2007
studio: Maverick Media Works in cooperation with the NASA Dryden Flight
country of origin: USA
script: Stephen Rocha
director of photography: James Kundig
music: Craig Dobbin
picture: 4:3 PAL, region 2
sound: Dolby Digital 2.0
language version: česká, anglická
medium type: DVD-5, papírová pošetka
Join us, we have our own channel!

where you will find samples from archival Czech films, animated fairy tales and documentaries, which we have released on DVD. You can also access them from our website, just click on the following names - Movie Songs and Favorite Movie Scenes and Buzz. The samples are sorted here according to individual films.