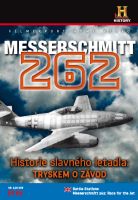 Messerschmitt 262
Do poloviny roku 1944 spojenecké síly pravidelně pořádaly nálety s tisíci bombardéry na nacistické Německo. V doprovodu amerických Mustangů P-51 se německá Luftwafe už těmto mocným vzdušným armádám nedokázala účinně bránit. Pak se v červenci 1944 objevil na scéně nový německý stíhací letoun. Byl o více než 150 km/h rychlejší než Mustang. Byl to Messerschmitt 262 s proudovým motorem. Německo bylo první zemí, které se povedlo dostat proudový letoun do vzduchu. ME 262 se stal nepochybně jedním z nejslavnějších letounů v historii německého letectví a možná v historii obecně. Byl zrozen k tomu, stát se obávaným ničitelem. Předznamenal konec éry vrtulových letadel a ohlásil tak příchod nového věku tryskových technologií.
videoukázka
---
czech title: Battle Stations Messerschmitt 262: Race for the Jet
length: 45 min.
colour: barevný
year of release: 2001
studio: A&E Television Networks, LLC.
country of origin: USA
director: Colin Barratt
picture: 4:3 PAL, region 2
sound: Dolby Digital 2.0
language version: česká, anglická
medium type: DVD-5, papírová pošetka
Join us, we have our own channel!

where you will find samples from archival Czech films, animated fairy tales and documentaries, which we have released on DVD. You can also access them from our website, just click on the following names - Movie Songs and Favorite Movie Scenes and Buzz. The samples are sorted here according to individual films.