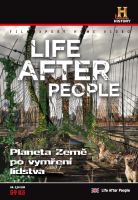 Life After People - DVD sleeve
Odborníci na inženýrství, botaniku, ekologii, biologii, klimatologii a archeologii vytvářejí obraz toho, jak bude Země vypadat v průběhu dní, týdnů, měsíců, let a milénií poté, co zmizí lidé. Uvidíme, co se stane s okolním prostředím. Jaké druhy rostlin přežijí? Budou moře oplývat rybami? Která zvířata přežijí? Co se stane s elektrárnami? Změní se v časované bomby, až se zastaví? Otráví zemi navěky? Vrátí se někdy lidé? Zahájí tento koloběh opět člověk odhalováním našich rozvalin a snahou představit si, jak život vypadal v naší době?

videoukázka
---
czech title: Life After People
length: 89 min.
colour: barevný
year of release: 2008
studio: A&E Television Networks, LLC.
country of origin: USA
picture: 4:3 PAL, region 2
sound: Dolby Digital 2.0
language version: česká, anglická
medium type: DVD-5, papírová pošetka
Join us, we have our own channel!

where you will find samples from archival Czech films, animated fairy tales and documentaries, which we have released on DVD. You can also access them from our website, just click on the following names - Movie Songs and Favorite Movie Scenes and Buzz. The samples are sorted here according to individual films.