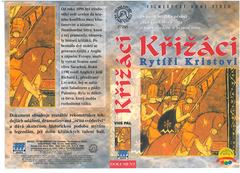 Křižáci - Rytíři Kristovi
Od roku 1096 byl středověký svět uvržen do krutého konfliktu mezi křesťanstvím a islámem. Nemilosrdné bitvy, které z něj pramenily, rámovaly historii křižáků. Po bezmála dvě století se generace rytířů z Anglie a západní Evropy, snažily vyrvat Svatou zemi vlivu Saracénů. Roku 1190 svedl anglický král Richard I., přezdívaný Lví srdce, boj se sultánem Saladinem o písky Palestiny. Byla to důležitá bitva, která mohla rozhodnout válku.
Dokument obsahuje rozsáhlé rekonstrukce tehdejších událostí, dramatizovaná "očitá svědectví" a dává skutečnou historickou podobu mýtům a legendám, jež dobu křižáckých tažení halí.
---
czech title: The Crusades - the Knights of Christ
length: 58 min.
colour: barevný
year of release: 1994
studio: Castle Communications PLC
country of origin: Velká Británie
sound: 1 CZ 2 ME
language version: česká
medium type: BTC
Join us, we have our own channel!

where you will find samples from archival Czech films, animated fairy tales and documentaries, which we have released on DVD. You can also access them from our website, just click on the following names - Movie Songs and Favorite Movie Scenes and Buzz. The samples are sorted here according to individual films.