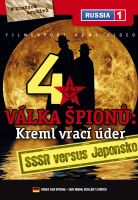 Krieg der Spione - Der Kreml schlägt zurück 4 - digipack
Ruský Dálný východ a Mandžusko bylo doslova zaplaveno tisíci japonských agentů. Špionážní válka mezi oběma zeměmi dala vzniknout těmto elitním tajným agentům. Jejich rafinovanost a zručnost, se kterou se dostávali k informacím, dosahovala dokonalosti. Vše o tom, kdo byli tito lidé a jaká břemena museli nést, vám prozradí sami vysloužilí agenti výzvědných služeb i historici.
Rusko - Japonská válka 1904 - 1905
Japonská špionáž za 2. světové války
| | |
| --- | --- |
| | |
| videoukázka | videoukázka |
---
czech title: Krieg der Spione - Der Kreml schlägt zurück
length: 2 x 44 min.
colour: černobílý
year of release: 2005
studio: TV Channel Russia
country of origin: Rusko
director: Gennadij Gorodnij, Anna Zereteli
script: Alexej Kiričenko, Jelena Prochorova
picture: 4:3 PAL, region 2
sound: Dolby Digital 2.0
language version: česká, německá
medium type: DVD-5, digipack
Join us, we have our own channel!

where you will find samples from archival Czech films, animated fairy tales and documentaries, which we have released on DVD. You can also access them from our website, just click on the following names - Movie Songs and Favorite Movie Scenes and Buzz. The samples are sorted here according to individual films.