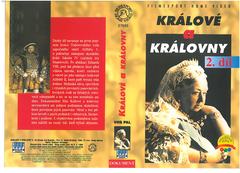 Králové a královny - 2. díl
Po abdikaci Eduarda VIII., jenž dal přednost lásce před vládou národu, končí zmínkou o vdově po jeho nástupci královně Alžbětě II., které patří britský trůn dodnes. Hrdinská sláva, opovržení i výsměch provázely panování královských rodů na britských ostrovech od nepaměti a nic se na tom nezměnilo ani dnes. Dokumentární film Králové a královny nevynechává ani jedinou podstatnou skutečnost, která provázela jejich panování. Věrně a bez příkras hovoří o jejich prohrách i vítězstvích, šlechetnosti i podlosti. S objektivitou podmíněnou staletími nahlíží na osudy lidí, kteří hýbali dějinami.
---
czech title: Kings and Queens - Part 2.
length: 51 min.
colour: barevný
year of release: 1994
studio: Castle Communications PLC
country of origin: Velká Británie
director: Graham Holloway
sound: 1 CZ 2 ME
language version: česká
medium type: BTC
Join us, we have our own channel!

where you will find samples from archival Czech films, animated fairy tales and documentaries, which we have released on DVD. You can also access them from our website, just click on the following names - Movie Songs and Favorite Movie Scenes and Buzz. The samples are sorted here according to individual films.