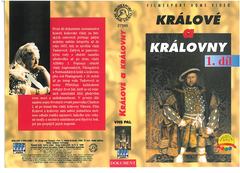 Králové a královny - 1. díl
Dokument se zabývá panovnickými rody z období raného středověku až po dobu vlády Alžběty I. Popisuje období vlády anglosaských, vikingských a normandských králů a královen, přes rod Plantagenetů v 16. století až po ústup rodu Tudorovců ze scény. Přibližuje každodenní veřejný život lidí, kteří se od ostatních smrtelníků lišili především svou mocí a nedotknutelností. V prvním díle najdete popis životních zvratů Charlese I., až po temná léta vlády královny Viktorie. Film Králové a královny nám nabízí jedinečnou možnost odhalit roušku tajemství, halícího tyto veřejné modly a nechává nahlédnout pod třpytivý lesk, jež jim propůjčil jejich majestát.
---
czech title: Kings and Queens - Part 1.
length: 51 min.
colour: barevný
year of release: 1993
studio: Castle Communications PLC
country of origin: Velká Británie
director: Graham Holloway
sound: 1 CZ 2 ME
language version: česká
medium type: BTC
Join us, we have our own channel!

where you will find samples from archival Czech films, animated fairy tales and documentaries, which we have released on DVD. You can also access them from our website, just click on the following names - Movie Songs and Favorite Movie Scenes and Buzz. The samples are sorted here according to individual films.