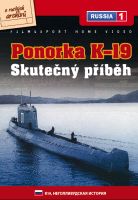 K-19: Not the Hollywood Story - DVD sleeve
Základem tohoto dokumentu o ponorce K-19 jsou dosud nezveřejněné výpovědi svědků o havárii. K tragédii došlo v roce 1972 následkem požáru. Pětadvacet mužů zahynulo okamžitě a dalších patnáct bylo uvězněno v desátém úseku až do samotného konce. Zápasili o život dlouhých dvacet šest dní: v naprosté tmě a řídkém vzduchu, bez jídla a vody i bez jakékoli komunikace s těmi, kdo se je snažili zachránit. Přesto se všem podařilo přežít a zachránit ponorku, která byla opravena a znovu po dlouhá léta brázdila moře a oceány se svou posádkou. Diváci se seznámí s příběhy zajatců desátého úseku, s názory odborníků a autoři dokumentárního filmu se pokusí objasnit, zda bylo či nebylo nutné uchovávat po desetiletí v provozu ponorku, na níž docházelo k opakovaným haváriím a jež pro celý svět představovala hrozbu jaderné katastrofy.

videoukázka
---
czech title: K-19: Not the Hollywood Story
length: 44 min.
year of release: 2004
studio: TV Channel Russia
country of origin: Rusko
director: Sergej Cholodny
script: Michail Monakov
picture: 4:3 PAL, region 2
sound: Dolby Digital 2.0
language version: česká, ruská
medium type: DVD-5, papírová pošetka
Join us, we have our own channel!

where you will find samples from archival Czech films, animated fairy tales and documentaries, which we have released on DVD. You can also access them from our website, just click on the following names - Movie Songs and Favorite Movie Scenes and Buzz. The samples are sorted here according to individual films.