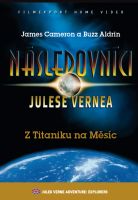 Jules Verne Adventure: Explorers - DVD sleeve
Jules Verne, průkopník sci-fi, je jedním z nejčtenějších romanopisců na světě. Mnozí výzkumníci a badatelé se nechávají inspirovat jeho úžasnými vizemi a proměňují je tak v realitu. Jedněmi z nich jsou i James Cameron, filmový tvůrce a držitel několika Oscarů, a Buzz Aldrin, muž, který společně s Neilem Armstrongem vstoupil jako první na Měsíc. Oba díky své vášni odhalovat neznámo riskují vlastní životy. Vydejte se s nimi na neuvěřitelnou výpravu, která vás zavede do hluboké propasti v oceánu, na jejímž dně leží potopený Titanic, a poté vzhůru ke hvězdám na nejnebezpečnější misi - cestu na Měsíc.
Hudbu k dokumentu složil John Scott, držitel ceny EMI.

videoukázka
---
czech title: Jules Verne Adventure: Explorers
length: 52 min. + 42 min.
colour: barevný
year of release: 2006
studio: Go Planet
country of origin: USA
script: Frédéric Dieudonné, Jean-Christophe Jeauffre
music: John Scott
picture: 4:3 PAL, region 2
sound: Dolby Digital 2.0
language version: česká, anglická
medium type: DVD-5, papírová pošetka
---
bonusy
Mise Apolla 11, archivní dokument, Filmový festival Julese Vernea
Join us, we have our own channel!

where you will find samples from archival Czech films, animated fairy tales and documentaries, which we have released on DVD. You can also access them from our website, just click on the following names - Movie Songs and Favorite Movie Scenes and Buzz. The samples are sorted here according to individual films.