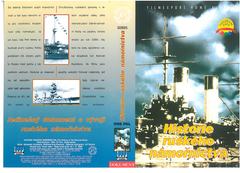 Historie ruského námořnictva
Se dvěma třetinami svých hraničních moří a řek byla námořní síla pro sovětskou bezpečnost vždy rozhodující. Již od časů, kdy Petr Veliký vybudoval první ruskou flotilu počátkem 18. století, patřilo Rusko mezi jednu z námořních velmocí. Historie je mapována od pancéřovaných lodí admirála Popova ze 60. let 19. století po Chruščovovy nukleární ponorky v letech studené války, přes dobrodružství Dálně-východní flotily na začátku tohoto století po rok 1990, kdy byla na vodu spuštěna ruská letadlová loď Admirál Kuzněcov. Ve filmu jsou použity unikátní filmové materiály, jež byly teprve nedávno uvolněny Centrálním ruským archivem.
---
czech title: The History of the Russian Navy
length: 52 min.
colour: černobílý / barevný
year of release: 1993
studio: Castle Communications PLC
country of origin: Velká Británie
director: Alexander Ainzenberg, Matthew King Kaufman
sound: 1 CZ 2 CZ
language version: česká
medium type: BTC
Join us, we have our own channel!

where you will find samples from archival Czech films, animated fairy tales and documentaries, which we have released on DVD. You can also access them from our website, just click on the following names - Movie Songs and Favorite Movie Scenes and Buzz. The samples are sorted here according to individual films.