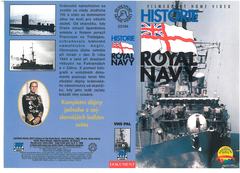 Historie Royal Navy
Královské námořnictvo se zrodilo za vlády Jindřicha VIII. a stalo se dominantní silou na moři pro několik staletí. Od okamžiku, kdy Drake odrazil španělskou armádu a Nelson porazil Francouze na Trafalgaru, ochraňovalo královské námořnictvo Anglii. Obrovskou úlohu sehrálo při invazi v den D roku 1944 také při dosažení vítězství na Falklandách a v Zálivu. S pomocí unikátních dokumentů popisuje tento film oficiální dějiny královského námořnictva od okamžiku, kdy jeho lodě začaly brázdit vlny oceánů.
---
czech title: Royal Navy - The oficial Story
length: 85 min.
colour: barevný / černobílý
year of release: 1993
studio: Castle Communications PLC
country of origin: Velká Británie
director: Steve Dargan
sound: 1 CZ 2 mix
language version: česká
medium type: BTC
Join us, we have our own channel!

where you will find samples from archival Czech films, animated fairy tales and documentaries, which we have released on DVD. You can also access them from our website, just click on the following names - Movie Songs and Favorite Movie Scenes and Buzz. The samples are sorted here according to individual films.