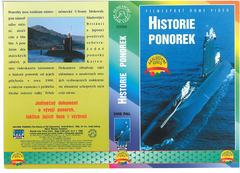 Historie ponorek
Ponorky jsou totálním nástrojem námořního ničení, útočícím z hlubin. S použitím dramatických záběrů je tento videoprogram záznamem o historii ponorek od jejich příchodu v roce 1900, a válečné existenci v průběhu Druhé světové války. Tehdy německé U-boaty blokovaly hladovějící Británii a Japonci používali sebevražedné ponorky Kaiten. Dokument obsahuje také informace o moderních strojích vyzbrojených nukleárními zbraněmi schopných ničit celá města.
---
czech title: History of the Submarine
length: 55 min.
colour: barevný
year of release: 1993
studio: Castle Communications PLC
country of origin: Velká Británie
director: Michael Campbell
sound: 1 CZ 2 originál
language version: česká
medium type: BTC
Join us, we have our own channel!

where you will find samples from archival Czech films, animated fairy tales and documentaries, which we have released on DVD. You can also access them from our website, just click on the following names - Movie Songs and Favorite Movie Scenes and Buzz. The samples are sorted here according to individual films.