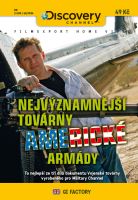 GI Factory - DVD sleeve
S dokumentem se vydáme do nitra fascinujícího a tajemného světa vojenské výzbroje a výstroje. Prozkoumáme několik zbrojních závodů, abychom zjistili, jak vyrábějí výzbroj, vozidla i zbraně pro americké vojenské síly. Podíváme se pěkně zblízka na celý proces výroby a náš průvodce Kelly Perdew (absolvent vojenské akademie ve West Pointu a vítěz soutěže Donalda Trumpa "Učeň") nás navíc představí designérům, kteří stojí u zrodu jednotlivých produktů, inženýrům, kteří je testují před odesláním do boje, a v neposlední řadě i tvrdě pracujícím dělníkům, kteří zpracovávají, tvarují, svařují a vyklepávají suroviny, aby je tak přetvořili v bojeschopné systémy.

videoukázka
---
czech title: GI Factory
length: 45 min.
colour: barevný
year of release: 2006
studio: DISCOVERY COMMUNICATIONS, LLC.
country of origin: USA
director: Eric Boardman
director of photography: Daniel Fried, Kurt Zell, Ed Kukla
music: Leggetivity
picture: 4:3 PAL, region 2
sound: Dolby Digital 2.0
language version: česká, anglická
medium type: DVD-5, papírová pošetka
Join us, we have our own channel!

where you will find samples from archival Czech films, animated fairy tales and documentaries, which we have released on DVD. You can also access them from our website, just click on the following names - Movie Songs and Favorite Movie Scenes and Buzz. The samples are sorted here according to individual films.