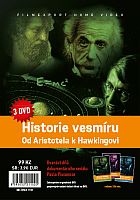 From Aristotle to Hawking - 3x DVD - DVD sleeve
Historie vesmíru je dokumentární seriál o dvanácti dílech na 3 DVD nosičích. Paul Pissanos, řecký spisovatel a režisér, v něm shrnuje svoje myšlenky a teorie týkající se vztahu člověka, duše a vesmíru. Došlo k Velkému třesku? Proč se vesmír rozpíná? Kam nás vede kvantová mechanika? Jak funguje příroda a mají zvířata či rostliny duši? Radi bychom diváky upozornili, že následující seriál nabízí jiný, alternativní pohled na vznik vesmíru a okolnosti s tím související, než jaký nám byl běžně předkládán. Jedná se o názor Paula Pissanose a jeho přátel, který je z všeobecně přijímaného hlediska odlišný.
---
czech title: From Aristotle to Hawking 1 - 3
length: 3x 112 min.
colour: barevný
year of release: 2006
studio: PISSANOS INTERNATIONAL FILM PRODUCERS & DISTRIBUTORS
country of origin: Řecko
director: Paul Pissanos
script: Paul Pissanos
music: Paul Pissanos
picture: 4:3 PAL, region ALL
sound: Dolby Digital 2.0
language version: česká, anglická, řecká
medium type: 3x DVD-5, papírová pošetka
Join us, we have our own channel!

where you will find samples from archival Czech films, animated fairy tales and documentaries, which we have released on DVD. You can also access them from our website, just click on the following names - Movie Songs and Favorite Movie Scenes and Buzz. The samples are sorted here according to individual films.