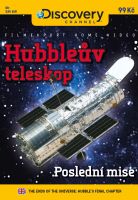 Ends of the Universe: Hubble´s Final Chapter, The - digipack
Hubble je globální superstar i všeobecně známá věc. Nyní čelí asi nejdramatičtější chvíli své existence - poslední návštěvě kvůli opravám a poslední sbohem od astronautů. Nebezpečná a impozantní mise s cílem oživit nejúžasnější vědecký přístroj dnešní doby byla zahájena a Hubble, spolu s nejtalentovanějšími vědci a astronauty, znovu vstupuje do dějin.

videoukázka
---
czech title: The Ends of the Universe: Hubble´s Final Chapter
length: 45 min.
colour: barevný
year of release: 2008
studio: DISCOVERY COMMUNICATIONS, LLC.
country of origin: USA
picture: 16:9 PAL, region 2
sound: Dolby Digital 2.0
language version: česká, anglická
medium type: DVD-5, digipack
Join us, we have our own channel!

where you will find samples from archival Czech films, animated fairy tales and documentaries, which we have released on DVD. You can also access them from our website, just click on the following names - Movie Songs and Favorite Movie Scenes and Buzz. The samples are sorted here according to individual films.