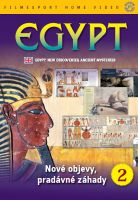 Egypt: New Discoveries, Ancient Mysteries 2 - digipack
5. díl: SAKKÁRA: KULT ZEMŘELÝCH
6. díl: HELIOPOLIS – KOLÉBKA BOHŮ
Prozkoumejte s námi Sakkáru, největší nekropoli starověkého Egypta, a seznamte se s jednou z nejvýznamnějších tradic dávných Egypťanů: kultem mrtvých. Vydejte se s námi do starobylého města Heliopolis, abyste odhalili skutečný význam slunečního kultu a nalezli tak odpověď na tajemství egyptské kosmogonie.

7. díl: RAMESSE II: HLEDÁNÍ DOKONALOSTI
8. díl: ACHNATON, KACÍŘSKÝ KRÁL
Odkryjte tajemství faraona Ramesse II., jenž byl rovněž známý jako Ramesse Veliký. Poznejte s námi jeho život, abyste tak lépe porozuměli všem panovníkům starověkého Egypta. Objevte pravdu o nechvalně proslulém faraonovi Achnatonovi, jenž díky své víře v jediného boha Atona navždy změnil tvář starověkého Egypta.

videoukázka
---
czech title: EGYPT: New Discoveries, Ancient Mysteries
length: 152 min.
colour: barevný
year of release: 2007
studio: DeAgostini Editore S.p.A. Novara
country of origin: Itálie
director: Antonio Monti, Constanca Bombarda, Dr. Zahi Hawass
script: Cristina Meda, Giulio Casale
picture: 16:9 PAL, region 2
sound: Dolby Digital 2.0
language version: česká, anglická
medium type: DVD-5, digipack
Join us, we have our own channel!

where you will find samples from archival Czech films, animated fairy tales and documentaries, which we have released on DVD. You can also access them from our website, just click on the following names - Movie Songs and Favorite Movie Scenes and Buzz. The samples are sorted here according to individual films.