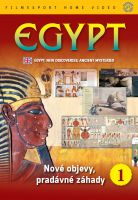 Egypt: New Discoveries, Ancient Mysteries 1 - digipack
1. díl: GÍZA, ZTRACENÉ MĚSTO STAVITELŮ PYRAMID
2. díl: EGYPT: ZTRACENÉ HROBKY Z THÉB
Objevte s námi, kdo byli stavitelé podivuhodných pyramid v Gíze a jaká tajemství tyto impozantní stavby ukrývají ve svých útrobách. Vydejte se s námi na jedinečnou expedici, která vás zavede do bludiště soukromých hrobek ukrytých na úpatí hor. Poznejte skutečný odkaz faraónů.
3. díl: EGYPT: TAJEMSTVÍ ÚDOLÍ KRÁLŮ
4. díl: EGYPT: SKRYTÁ TAJEMSTVÍ KÁHIRSKÉHO MUZEA
Vydejte se s námi do Údolí králů, abyste na vlastní kůži prožili okamžiky, kdy byla objevena Tutanchamonova hrobka, spatřili nejnovější objevy mumie královny Hatšepsut a hrobky KV63. Pojďte si s námi prohlédnout neznámé sklepní prostory slavného muzea v Káhiře, kde spatříte mnoho zapomenutých egyptských pokladů, sarkofágů i mumií, na něž po desetiletí sedá prach.

videoukázka
---
czech title: EGYPT: New Discoveries, Ancient Mysteries
length: 121 min.
colour: barevný
year of release: 2007
studio: DeAgostini Editore S.p.A. Novara
country of origin: Itálie
director: Dr. Zahi Hawass
script: Cristina Meda, Anna Ferrari
picture: 16:9 PAL, region 2
sound: Dolby Digital 2.0
language version: česká, anglická
medium type: DVD-5, digipack
Join us, we have our own channel!

where you will find samples from archival Czech films, animated fairy tales and documentaries, which we have released on DVD. You can also access them from our website, just click on the following names - Movie Songs and Favorite Movie Scenes and Buzz. The samples are sorted here according to individual films.