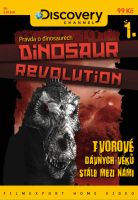 Dinosaur Revolution : Evolution's Winners, The Watering Hole - digipack
Nejnovější vědecké poznatky přesvědčivě dokazují, že do dějin naší planety je třeba vepsat podstatnou změnu a upravit tak nejednu kapitolu z prehistorie. Převrat v současné paleontologii a nové postupy zkoumání nálezů nás posouvají dál. Poslední objevy potvrzují hypotézy probleskující vědeckými kruhy posledních 15 let – dnes je shrňme!
1.díl - Vítězové evoluce
Příchod nového druhu – od drobotiny po giganty. Pevné rodinné zázemí a uvědomělá ochrana mláďat základem strategie přežití.
2.díl - U napajedla
Sociální systémy v soužití uvnitř i vně jednotlivých druhů. Konkurence a koexistence. Společenské uspořádání zajišťující úspěšný vývoj.

videoukázka
---
czech title: Dinosaur Revolution : Evolution's Winners, The Watering Hole
length: 2 x 47 min.
colour: barevný
year of release: 2011
studio: DISCOVERY COMMUNICATIONS, LLC.
country of origin: USA
director: David Krentz, Erik Nelson
picture: 16:9 PAL, region 2
sound: Dolby Digital 2.0
language version: česká, anglická
medium type: DVD-5, digipack
Join us, we have our own channel!

where you will find samples from archival Czech films, animated fairy tales and documentaries, which we have released on DVD. You can also access them from our website, just click on the following names - Movie Songs and Favorite Movie Scenes and Buzz. The samples are sorted here according to individual films.