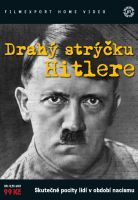 Dear Uncle Hitler - digipack
Více než kterékoli jiné historické dokumenty jsou to právě osobní dopisy psané lidmi "jejich" diktátorovi, jež nabízejí nejintimnější pohled na dějiny Třetí říše. Nedávno byl nalezen poklad obsahující na sto tisíc takových dopisů. Byl ukryt v jednom moskevském archivu a dopisy psané Vůdci tak zůstaly zapomenuty dlouhých šedesát let. Do Moskvy je ze soukromých prostor Hitlerova kancléřství přivezla v roce 1945 tzv. trofejní komise a od té doby ležely bez povšimnutí ve sklepení budovy archivu. Necenzurovaný obsah těchto dopisů odhaluje skutečné pocity lidí v období nacismu: jedná se osobní zpověď jejich pisatelů, v níž zvěčnili své naděje, touhy, obavy, v níž slibovali lásku a věrnost Vůdci, blahopřáli mu k jeho narozeninám, v níž se k němu obraceli s prosbami, ale i s protesty. Tyto dopisy odrážejí jako seismograf změnu nálad v nacistickém Německu a poskytují obraz německého ducha v období od roku 1933 do roku 1945.

videoukázka
---
czech title: Dear Uncle Hitler
length: 60 min.
colour: barevný
year of release: 2010
studio: SPIEGEL TV GmbH.
country of origin: Německo
director: Mathias von der Heide, Michael Kloft
script: Mathias von der Heide, Michael Kloft
director of photography: Jan Kerhart
music: Hubert Bittman
picture: 16:9 PAL, region ALL
sound: Dolby Digital 2.0
language version: česká
medium type: DVD-5, digipack
Join us, we have our own channel!

where you will find samples from archival Czech films, animated fairy tales and documentaries, which we have released on DVD. You can also access them from our website, just click on the following names - Movie Songs and Favorite Movie Scenes and Buzz. The samples are sorted here according to individual films.