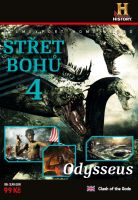 Clash of the Gods 4: Odysseus: Curse of the Sea, Odysseus: Part II - digipack
Odysseus, Pomsta bojovníka
Po vítězství nad Trójou se král Odysseus snaží dostat domů dříve, než ztratí ženu, kterou miloval a národ, kterému vládl. V cestě mu ale stojí lidožravý Kyklop, větry o síle hurikánu a gigantičtí kanibalové. Cesta z války trvala 10 let. Odysseovo jméno v řečtině znamená "muž bolesti". Schopnost být sražen a znovu vstát z něho dělá postavu, o které se mezi lidmi vypráví po staletí. Je to nadčasový příběh o velké osobní vytrvalosti a odolnosti.
videoukázka Odysseus

videoukázka

Odysseus - pomsta bojovníka
---
czech title: Clash of the Gods: Odysseus: Curse of the Sea, Odysseus: Part II
length: 45 min. + 45 min.
colour: barevný
year of release: 2009
studio: A&E Television Networks, LLC.
country of origin: USA
picture: 4:3 PAL, region 2
sound: Dolby Digital 2.0
language version: česká, anglická
medium type: DVD-5, digipack
Join us, we have our own channel!

where you will find samples from archival Czech films, animated fairy tales and documentaries, which we have released on DVD. You can also access them from our website, just click on the following names - Movie Songs and Favorite Movie Scenes and Buzz. The samples are sorted here according to individual films.