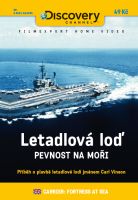 Carrier: Fortress at Sea - DVD sleeve
Jaké to je žít na letadlové lodi? Poslechněte si příběh o plavbě letadlové lodi jménem Carl Vinson ze San Franciska na Havaj, do Japonska, Hongkongu, Singapuru a do Perského zálivu, kde se loď a její posádka podílejí na ochraně bezletové zóny OSN pod 32. rovnoběžkou. Výjimečné záběry jsou doplněny příběhy lidí na palubě lodi Vinson - pilotů, mužstva pracujícího na palubě i v podpalubí a důstojníků.

videoukázka
---
czech title: Carrier: Fortress at Sea
length: 54 min.
colour: barevný
year of release: 1998
studio: DISCOVERY COMMUNICATIONS, LLC.
country of origin: USA
picture: 4:3 PAL, region 2
sound: Dolby Digital 2.0
language version: česká, anglická
medium type: DVD-5, papírová pošetka
Join us, we have our own channel!

where you will find samples from archival Czech films, animated fairy tales and documentaries, which we have released on DVD. You can also access them from our website, just click on the following names - Movie Songs and Favorite Movie Scenes and Buzz. The samples are sorted here according to individual films.