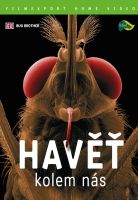 Bug Brother - digipack
To se však může změnit! Ať se podíváme kamkoliv, do jakéhokoliv domu, všude je najdeme. Zdá se vám váš byt či dům čistý? Omyl! Bydlíte v domě hrůzy – roztoči, švábi, červi a nosatci jsou vašimi neviditelnými spolubydlícími. Za pomoci nejmodernější technologie, elektronového mikroskopu, před vámi ožije svět, o kterém jste ani netušili, že existuje. Seznamte se s živočichy, kteří sdílejí domácnost s vámi!

videoukázka
---
czech title: Bug Brother
length: 50 min.
colour: barevný
year of release: 2006
studio: Parthenon Entertainment Ltd / Mona Lisa Production
country of origin: Francie
director: Jamie Robertson
script: Natalie Humphries, Martin Willis
picture: 16:9 PAL, region ALL
sound: Dolby Digital 2.0
language version: česká, anglická
medium type: DVD-5, digipack
Join us, we have our own channel!

where you will find samples from archival Czech films, animated fairy tales and documentaries, which we have released on DVD. You can also access them from our website, just click on the following names - Movie Songs and Favorite Movie Scenes and Buzz. The samples are sorted here according to individual films.