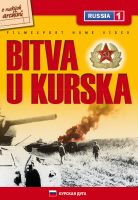 Battle of Kursk, The - DVD sleeve
Bitva u Kurska je na seznamu událostí, jež změnily dějiny světa. Na toto téma byla napsána řada knih a natočena řada filmů. Přesto bylo téměř nemožné odhadnout skutečný rozsah bitvy, neboť mnoho dokumentů leželo ukryto v tajných archivech a byly zpřístupněny veřejnosti teprve po 60letech od výročí bitvy. První část dokumentu je věnována přípravě této rozsáhlé vojenské operace, kterou Hitler považoval za přísně tajnou. Stalin se však dozvěděl o jeho plánech již v samotném počátku. Bývalí agenti KGB nám prozradí, jak se tyto tajné dokumenty dostaly do rukou Moskvy, a bývalí příslušníci Wehrmachtu úplně poprvé otevřeně pohovoří o svých dojmech z Hitlerovy přípravy této předělové bitvy. Druhá část dokumentu popisuje samotnou bitvu a zaměřuje se na střety nedaleko vesnice Prochorovka. Na válečný střet vzpomínají účastníci z obou stran a jejich svědectví je doplněno unikátními fotografiemi tajných německých map a sovětskými i nacistickými dobovými záběry.
| | |
| --- | --- |
| | |
| videoukázka | videoukázka |
---
czech title: The Battle of Kursk
length: 88 min.
colour: černobílý/barevný
year of release: 2003
studio: TV Channel Russia
country of origin: Rusko
director: Sergej Gusev
script: Alexandr Adamovič
picture: 4:3 PAL, region 2
sound: Dolby Digital 2.0
language version: česká, ruská
medium type: DVD-5, papírová pošetka
Join us, we have our own channel!

where you will find samples from archival Czech films, animated fairy tales and documentaries, which we have released on DVD. You can also access them from our website, just click on the following names - Movie Songs and Favorite Movie Scenes and Buzz. The samples are sorted here according to individual films.