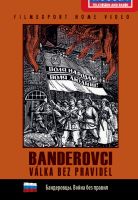 Banderas of the Ukrainian Front, The - digipack

videoukázka
Ačkoli druhá světová válka v Evropě skončila v květnu 1945, uběhlo ještě hodně času, než zazněly opravdu poslední výstřely. Po skončení války pokračovaly střety na území západní Ukrajiny, kde Rudá armáda společně s agenty ministerstva vnitra sváděla boj s banderovskými jednotkami ještě dalších deset let. Dokument se vydává po stopách tohoto nacionalistického hnutí a přináší poutavé rozhovory s dosud žijícími členy organizace, založené Stěpanem Banderem, i s těmi, kteří s banderovci bojovali v nelítostné partyzánské válce.
---
czech title: The Banderas of the Ukrainian Front
length: 44 min.
colour: barevný
year of release: 2005
country of origin: Rusko
director: Anna Boguslavskaja, Oleg Šilovski
script: Marianna Faktorovič, Aleksej Vasiljev
picture: 4:3 PAL, region 2
sound: Dolby Digital 2.0
language version: česká, ruská
medium type: DVD-5, digipack
Join us, we have our own channel!

where you will find samples from archival Czech films, animated fairy tales and documentaries, which we have released on DVD. You can also access them from our website, just click on the following names - Movie Songs and Favorite Movie Scenes and Buzz. The samples are sorted here according to individual films.