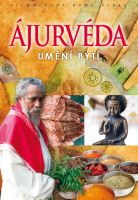 Ájurvéda - Umění bytí - papírová pošetka
V dokumentu "ÁJURVÉDA – Umění bytí" režisér Pan Nalin, sám indicko-francouzského původu, putuje po celé Indii s několika indickými léčiteli praktikujícími tuto léčebnou metodu a sleduje je, jak s ohromujícími úspěchy aplikují tyto starodávné doktríny. Tito léčitelé své pacienty vyšetřují tak, že jejich těla pokrývají zvláštním bahnem, aby odhalili jejich neduhy…
ÁJURVÉDA však není o měřitelném úspěchu jistých starodávných léčebných metod. Poodkrývá nám záhady lidského ducha i těla ve světle ájurvédy: každá nemoc je způsobena nerovnováhou životních energií lidské bytosti. A každou nemoc lze proto vyléčit navrácením a udržením této rovnováhy.

Filmová ocenění:
Cena za nejlepší celovečerní dokument - Galway Film Fleadh 2002
Cena publika za nejlepší dokument - Inaugural Indian Film Festival of Los Angeles (IFFLA) 2003

videoukázka
---
czech title: Ayurveda - Art of Being
length: 102 min.
colour: barevný
year of release: 2001
studio: Pandora Film Produktion GmbH.
country of origin: Německo, Švýcarsko
director: Pan Nalin
music: Cyril Morin
picture: 4:3 PAL, region 2
sound: Dolby Digital 2.0
language version: česká
medium type: DVD-5, papírová pošetka
Join us, we have our own channel!

where you will find samples from archival Czech films, animated fairy tales and documentaries, which we have released on DVD. You can also access them from our website, just click on the following names - Movie Songs and Favorite Movie Scenes and Buzz. The samples are sorted here according to individual films.