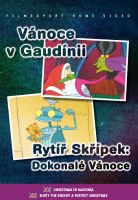 Vánoce v Gaudínii / Rytíř Skřípek: Dokonalé Vánoce - papírová pošetka
Vánoce v Gaudínii
Když rádoby čarodějnice se svým poťouchlým pomocníkem ukradnou z oblohy vánoční hvězdu, vše závisí na třech odvážných kominíčcích, kteří musejí proniknout do hradu Nepořádníku převlečení za tři krále. Čeká je spousta trampot, dobrodružných honiček, legračních překvapení i samotný Santa. To se opravdu může stát jen Gaudínii.
Rytíř Skřípek: Dokonalé Vánoce
Když dobrý král oznámí svým rytířům, že odmění ty, kteří prožijí dokonalé Vánoce, Skřípek náhle stojí před nejtěžším úkolem svého života. Přičiněním své panovačné tety Gity se pak ocitá tváří v tvář hrozivému neštěstí. Podaří se plechovému hrdinovi nakonec zvítězit?
| | |
| --- | --- |
| | |
| videoukázka | videoukázka |
---
czech title: Christmas in Gaudinia/Rusty the Knight
produkce Filmexport: Ano
length: 22 min. + 28 min.
colour: barevný
year of release: 2002/2004
studio: gpsl/swp/agogo / JEP Animation
country of origin: Velká Británie + Španělsko + Hong Kong/Německo
director: Phil Roman/Dietmar Kremer
script: Mark Zaslove/J. Egenolf, J. Hilbert, R. Lyona, A. Offller
music: Nathan Wang/Felix Janosa
picture: 4:3 PAL, region ALL
sound: Dolby Digital 2.0
language version: česká, anglická
medium type: DVD-5, papírová pošetka
EAN: 8595052270195
Join us, we have our own channel!

where you will find samples from archival Czech films, animated fairy tales and documentaries, which we have released on DVD. You can also access them from our website, just click on the following names - Movie Songs and Favorite Movie Scenes and Buzz. The samples are sorted here according to individual films.